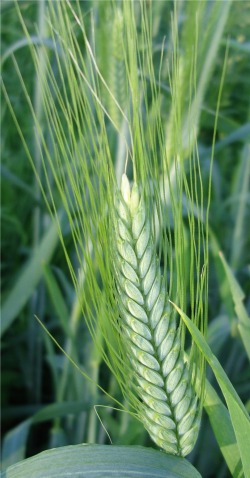 M
odern wheat varieties have been developed for ease of growing and harvesting on a vast scale with machines, for disease-resistance in huge monocultures, and high gluten content for commercial bread baking. As with fruits and vegetables, flavor and nutrition have become a more minor consideration. If you are going to go to all the work of raising small grains by hand, you might want to consider getting involved with raising, and preserving, ancient and heritage varieties of grain, that were developed during the eras when they were grown on a small scale, and harvested by hand. There may be a wisdom to their development, that is lost at a modern machine scale. For example, very tall winter varieties can out-compete the weeds more easily.
Also growing, and harvesting small-grains by hand, is an awful lot of work for something that you can easily buy in bulk at a natural foods co-op. A better niche for the scythe user, would be to grow rare heritage varieties, that you can't buy anywhere else. You can help preserve them for the future, and also to adapt them to your bio-region. Start with a variety of different grains in garden-sized plots, and see what does well in your area. Save the seed of what grows, and tastes the best, to sow larger areas the next year.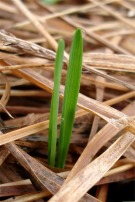 Pictured here, is a sprout of Black Winter Emmer Wheat emerging through straw mulch, that I planted in the Fall of 2009. I got the seed from the Kusa Seed Society. I'm very excited to see how it grows here in Wisconsin. It made it through our winter just fine. So far so good!
Some sources in the U.S.A., for heritage grain seed are:
http://www.bountifulgardens.org/products.asp?dept=4
I recently ordered a Red Emmer wheat, Einkorn, Kamut, and Akusti rye from Bountiful Gardens.
http://www.ancientcerealgrains.org/
They have extremely rare seeds (somewhat strangely described), available in tiny packets. I ordered Ancient Wheat set (Dinkel, Emmer, and Einkorn), from the Kusa Society, plus the Miracle Barley set.
http://www.growseed.org/seed.html
. Expensive to join, but what an education you would get. Imagine the quality and flavor and nutrition of the bread made with these grains! I ordered a pound of an ancient Ethiopian variety of organically grown Emmer wheat seed from this site.
http://sustainableseedco.com/wheat/
Lots of interesting wheats available here.
If you live in Canada see:
www.saltspringseeds.com
. They have a great selection, but absolutely will not sell to the USA. Don't even bother asking.
Because heritage seeds are only available in such small quantities, you have to make every seed count. I usually prefer to broadcast grain seed, but for these rare seeds, I take the time to plant them individually. With only 25-50 seeds per packet for some of the grains, it doesn't take too long. I planted mine with a 6 inch hexagonal spacing in my garden beds. In order to keep track of my spacing, I placed a small stone, where I planted each seed in a row, and then moved them up as I planted the next row, working my way down the entire length of the garden bed. I planted the seed about a 1/2 - 3/4 inch deep. I then hand-broadcast white clover seed over the entire garden bed, and covered the bed with scythe-cut, dead grass "straw", harvested from my field. Next, I sprinkled a little dried turkey manure on top of the straw, to help break it down over time, and build up the soil. To learn more about this technique, read
The One Straw Revolution
by Masanobu Fukuoka; newly re-printed in paperback.
Here's dreaming of fields of heritage grain....