1SR Scythe Workshop Calendar - 2017
Please check back for additional workshop listings.
---
The Biochar Revolution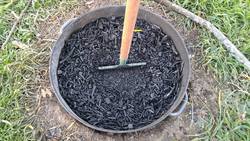 BLACK IS THE NEW GREEN! I am a huge fan of making biochar, and incorporating it into my garden beds. WWOOFers and gardeners that have planted in my garden soils have called it "Magic Dirt"! I've been experimenting with various ways of making biochar since 2010. As part of Kubb Farm's Sustainability Series, I am looking forward to sharing what I have learned about biochar, at this workshop on March 11th. I will demonstrate a very simple way of making biochar on a backyard garden scale. As with my One Scythe Revolution message, I think biochar is the most ecological at a simple, hands-on, small-scale, rather than a large industrial one. I incorporate biochar into my scythe cut biomass mulch, animal bedding, and compost., before incorporating it into the soil. Whether you are just curious or already a biochar enthusiast, we will have some interesting discussions and some fun! Register on Facebook or contact me at
Botan@OneScytheRevolution.com or call 651-604-7090
---
International Day of Peening, April 2nd, 2017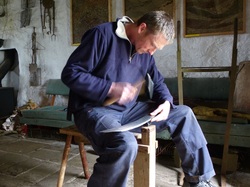 Yes, there really is such a day! It was started by
Steve Tomlin
, of the UK. It's on the
first Sunday of April
each year. Get your scythe blade ready for the mowing season! Peen at home, or attend or form a group gathering.
Here in the USA:
​
- I will be hosting one near Eau Claire, WI. Contact me if you wish to attend. Botan@OneScytheRevolution.com or call 651-604-7090 , 1- 4pm,
---
---
1SR Scythe Workshop, May ?, 2017, 1-5 pm, Eau Claire, WI
​A half day Basic Scythe Workshop

Scythe fit, form and function will be covered. How to mow with a scythe, and how to hone the blade. Plus an introduction to peening.

Bring sunhat, sunscreen, work gloves, water bottle, snacks, and wear something with a belt.

​To register contact

botan@onescytherevolution.com

​ or call 651-604-7090

​
---
---
---
---