One good scythe

per farm, could

revolutionize

small-scale farming.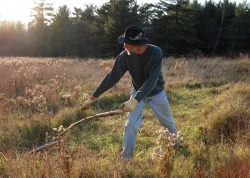 Botan Anderson mowing with a scythe.
---
(Note: The Mystic Prairie Scythe Shop is now known as One Scythe Revolution!)
---
I sell the best available adjustable snaths from Europe and the USA. New for 2015! Steam bent wooden Swiss-style snaths, with adjustable ergonomic grips designed by Botan Anderson. Made in Minnesota from local ash trees. New for 2016 is the new and improved FUX snath.
---
---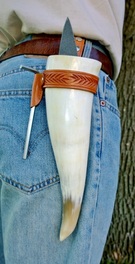 A 1SR exclusive! Made by Karen Stack in North Carolina. Scythe whetstones are water stones, and are best used wet. The scythe whetstone is carried in the field in a holder that is half-filled with water, and worn on your belt. When your blade needs sharpening, your whetstone is handy at your side, soaking wet and ready to use. Cowhorns have been long been historically used as whetstone holders. I also carry galvanized and plastic holders.
---
---
---
---
Contact One Scythe Revolution
To contact One scythe Revolution, send an email to Botan (at) One Scythe Revolution. com, or call 651-604-7090
---
"Wooo hooo! I'm scything! I scythe! I'm ever so happy to have this new tool. ...Thank you for being there to sell scythes like this in the U.S.A.. I searched several websites. I must say, your site is straightforward and was the easiest for me to understand."
- C.H. CO
One Scythe Revolution (1SR) in the Media