Snaths

---
New! The FUX Adjustable Wooden Snath
In Europe this is considered to be the Mercedes of snaths. Now being made in Austria, the FUX Swiss-style adjustable, ashwood snaths have been redesigned and improved. More holes for a greater range of adjustability, highly ergonomic new grips, slightly reduced overall weight, a bit more curved, and better fitting ring and snath saver. Precision milling of kiln-dried, tool-grade European Ash wood, and top-quality metal components. The grips are marvelously well executed. I stock it in two sizes, 150cm and 160cm. All for the same price as the old Swiss snaths! $110 and $115. Outfits are available on
Quick Order
page, or contact me if you would like a customized outfit. My contact info is
here.
---
New! The 1SR Adjustable Wooden Snaths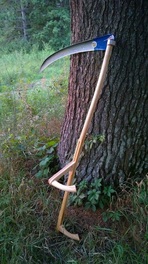 Introducing the long awaited 1SR snath.
1SR
stands for
One Scythe Revolution.
I use this abbreviation as a prefix to denote my top-of-the-line products. Made in the USA. A steam bent ash wood snath with adjustable ergonomic grips. Still in it's development phase in terms of mass production. A lot of hand work is required to bring you the final product, so production is slow, but of extremely high quality.
This snath is designed for the way that I like to mow
. It's all about the grips! I will explain more about this later. Made in Minnesota and Wisconsin from local ash trees. The ring and snath-saver bracket are made in Wisconsin. Available in 150cm, 160cm, and 170cm.
-
Botan Anderson
---
---
FUX Adjustable Wooden Swiss Snaths.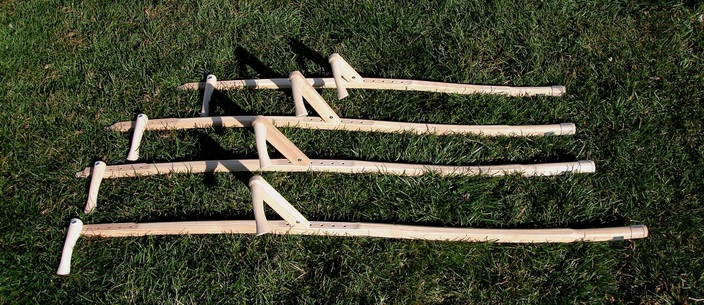 These wooden snaths are made in Switzerland, and feature adjustable, ergonomic grips. The adjustment mechanism for the grips hold very securely, and is patented. These scythes are strong, light-weight, well-balanced and a pleasure to mow with. Precision milling of kiln-dried, tool-grade Swiss Ash wood, and top-quality metal components. I carry four sizes:
130cm for people/kids under 5' - out-of-stock
150cm for people 5'2" - 5' 9" - $110 out-of-stock.
160cm for people 5'8" - 6'2" - $115 out-of-stock.
170cm for people 6'2" - 6'7" - $ 125 out-of-stock
---
The High-Quality Components of the FUX Swiss Snath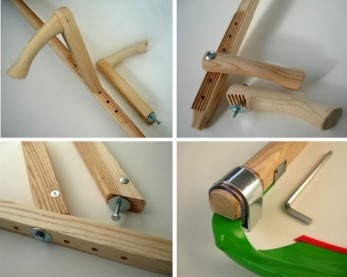 Here are some close-up photos showing the high quality of the components of our wooden snath. Notice the precision milling, and clean and precisely drilled holes. Traditional Swiss woodworking with modern, high-tech, precision milling equipment.
These snaths are adjustable for good mowing posture. The adjustment mechanism is simple to use, yet holds solid as a rock! The grips will not wiggle, or twist, giving you precise control of your scythe blade. The grips are ergonomically shaped, making them very comfortable to use for long periods of time, and also give you an excellent feel and control of your scythe blade. All together, the design enables you to customize the fit, so that you can mow very comfortably, and efficiently; enabling you to utilize all your energy for mowing, instead of compensating for poor quality equipment. These snaths come with a high quality ring, with a metric Allen wrench key, and a metal snath saver.
New for 2008 is a vinyl cushion between the wood and the ring. This serves to protect the wood from the metal ring, and also enables one to use a wider ring, which gives you a greater range for adjusting the hafting angle.
---
---
FUX Adjustable Metal "Gartensense" (Garden scythe) Snaths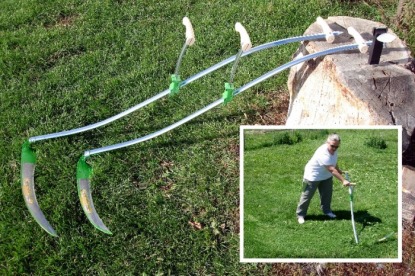 These metal snaths were designed by Ernst Schoiswohl at the SFX scythe factory. They are made of steel, and come in two sizes, and are highly adjustable. They are very ergonomic, and great for people that want to mow with a relaxed and upright posture. Ernst says that you can "rest" while using these scythes. His own personnel scythe is a red one of this model. He prefers them to the wooden Swiss model above, which he also designed.

They are much more curved than our wooden snaths, and I've found that they work much better for people with either bolt-upright posture, or people with a bit of "mass around the middle". If the tag on your jeans, says that your waist size is bigger than your inseam, this may be the snath for you. Heavier people can mow with tremendous power with this model, whereas the wooden snath can be difficult to fit, and ackward for them to use. Slimmer people are usually better off with the less curved, Swiss wooden snaths.

Very relaxing and comfortable to use. Ernst says you can rest while mowing with this scythe. The double curve enables the blade to travel in a tighter circumference, closer to your body, so it's easy to see what you are mowing.

Lightweight steel, with wooden grips. Very sturdy, but not an indestructible weed-whacker.

Available in two sizes:

The regular sized snath fits people up to 5'11" - $105.00 Discontinued. The ergonomic grips are no longer being made. See the Original Gartensense scythe outfit below, instead.
The tall snath fits people 5'10" - 6'5" - $115.00 Discontinued
---
The High-Quality Components of the Metal Snath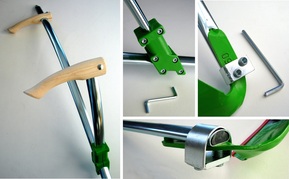 Big, comfortable, ergonomic, wooden grips. No need to oil them; the sweat from your hands will do the job. Both upper and lower are highly adjustable. Both sizes of snaths can be used by a wide variety of sized people. Both grip adjustments hold solid as a rock, and will not wiggle. This gives you excellent control of your blade. The stem height of the lower grip can be further customized, by sawing it to length with a hacksaw, but that of course will make it less adjustable for someone else. I highly recommend that you assemble this snath indoors, for the first time. The six nuts on the plastic lower grip assembly, have a way of disappearing in the grass. Once assembled, it is easy to just loosen the bolts back up a little, with the little zig-zag allen wrench (included), and slide the stem to the height you like, when you are outside mowing.

---
---
The original FUX Gartensense Scythe outfit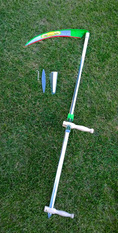 This is the original Gartensense scythe outfit manufactured by FUX. It's the predecessor to the Austrian metal snath above. The only difference is the grips. These grips are lathe turned, not ergonomic. But the advantage is that the stem height on the lower grip is adjustable. It is called as "The Scythe that Fits". The snath is 150cm long. It is highly adjustable and fits a range of 5' tall to 6" tall. Factory instruction file below. See
Quick Order
page.
---
---
---