Snaths
​
---
The New FUX Adjustable Wooden Snath
In Europe this is considered to be the Mercedes of snaths. Now being made in Austria, the FUX Swiss-style adjustable, ashwood snaths have been redesigned and improved. More holes for a greater range of adjustability, highly ergonomic new grips, slightly reduced overall weight, a bit more curved, and better fitting ring and snath saver. Precision milling of kiln-dried, tool-grade European Ash wood, and top-quality metal components. The grips are marvelously well executed. I stock it in three sizes, 150cm, 160cm, and 170cm. All for the same price as the old Swiss snaths! $110 and $115, and $125..
---
New! The 1SR Adjustable Wooden Snaths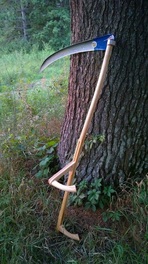 Introducing the long awaited 1SR snath.
1SR
stands for
One Scythe Revolution.
I use this abbreviation as a prefix to denote my top-of-the-line products. Made in the USA. A steam bent ash wood snath with adjustable ergonomic grips. Still in it's development phase in terms of mass production. A lot of hand work is required to bring you the final product, so production is slow, but of extremely high quality.
This snath is designed for the way that I like to mow
. It's all about the grips! I will explain more about this later. Made in Minnesota and Wisconsin from local ash trees. The ring and snath-saver bracket are made in Wisconsin. Available in 150cm, 160cm, and 170cm.
-
Botan Anderson
---
---
---
The original FUX Gartensense Scythe outfit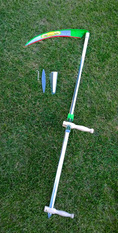 This is the original Gartensense scythe outfit manufactured by FUX. The grips are turned round on a lathe. It is called as "The Scythe that Fits"., because it is so highly adjustable. You can adjust both grips and even adjust the stem height of the lower grip. The snath is 150cm long. It fits a range of 5' tall to 6" tall. Factory instruction file below. See
Quick Order
page.
---
---

---