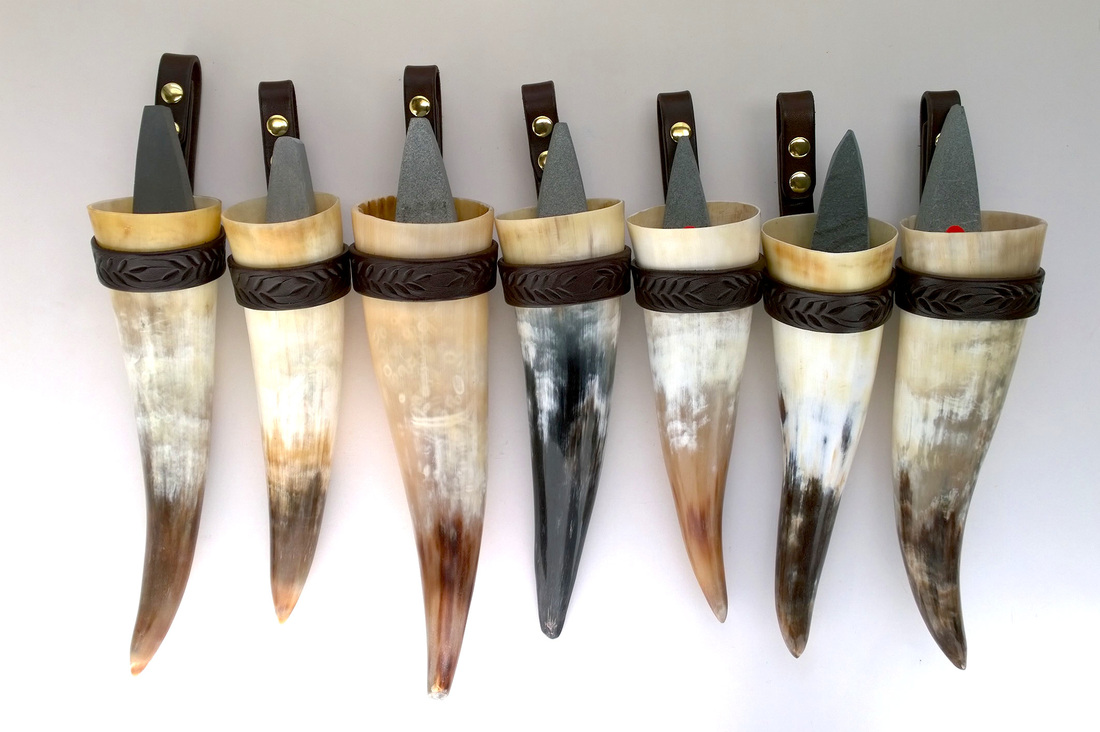 Whetstone Holders
Scythe whetstones are essentially water stones, and need to be used wet. Hence the need for a holder that you can carry water in, as well as the stone, while you are out mowing in the field. We carry cowhorn, metal, and plastic whetstone holders.

---
1SR Cowhorn Whetstone Holder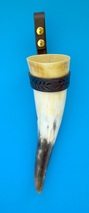 A 1SR EXCLUSIVE! Made by leather artist, Karen Stack. I have been using cowhorn whetstone holders since 2006, when I first imported some from Austria. The metal holders are too small for the Doppelbock whetstone that I like to use, and I generally don't like the plastic all that much. I found a source for horns, here in the USA. The next problem was how to attach them to a belt. The multi-talented
Karen Stack
came up with the elegant solution of a form-fitted, tooled leather holster for the horns. The horn can be rotated to point in the direction that feels the most comfortable. See below for individual listings. All are currently available with the new wheat pattern, only. Contact Botan (at) OneScytheRevolution.com to order. These can also be substituted for a metal or plastic holder in an outfit package.
$55 Sold out
Sold Out.
---
Galvanized Whetstone Holder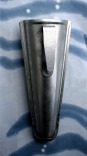 Holds your whetstone when you are out mowing in the field. Strong, durable, and practical. Fill it halfway with water, put your whetstone in it, and clip it to your belt. When your scythe blade's edge needs to be refreshed, your whetstone is handy at your side, wet, and ready to use. Fits the smaller whetstones. The new smaller Rozsutecs, fit so-so. The bigger older Rozsutecs get stuck.
- $12
Fux Plastic Whetstone Holder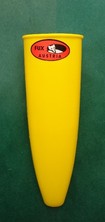 A plastic whetstone holder!!! Oh the horror! Yes, but the metal holders aren't big enough for the larger whetstones. The 2nd Edition of The Scythe Book, gives this plastic holder a bad reputation, but I can see what the manufacturer was thinking. It's super-lightweight, seamless and watertight; big enough to hold the larger whetstones without them getting stuck, and holds a lot of water even with a large stone in it, and the shape doesn't make it slosh out. I bet the designer of this holder would be surprised if he read The Scythe Book. I prefer this holder when I am mowing in colder weather, and I am wearing a jacket. The jacket makes it impractical to clip my cow horn to my belt (mine has a clip instead of a leather strap), and the horn is too heavy for clipping it to my back pocket. So I switch to the plastic whetstone holder and clip it to the back pocket of my jeans. It has a smaller clip than the metal holders, and works nicely for this. Even with a big Green Dragon whetstone, this holder feels very light on my pocket.
- $12
Falci Plastic Whetstone Holder

On the left side of this picture is a holder manufactured for Falci. On the right, the one manufactured for Fux (SFX) described above. The Falci holder is slightly smaller and made of thinner plastic, but still holds all the bigger whetstones. It has a longer more open metal clip. Works better on belts. The Fux clip works the best on back pockets, if that is what you are after.
Falci - $12.00 Fux - $12.00
---